In writing these experiences down for the first part of this journal, and realizing after publishing said dross that there were many noteworthy events that escaped recollection, it has become increasingly apparent why the touring party were in a near constant state of bewilderment and mental exhaustion. The sheer quantity and variety of people, places, travel, logistics, work and general happenings presented to the travellers in a relatively short span must have put their brains into utility mode, leaving little room for reflection or recall. However, with the retelling of the adventures, many of these moments are gradually returning to us, and before heading into the next episodes of the odyssey we'll sneak in some memories from the previous weeks that are too tremendous to omit.
The School Concert - How could we forget this! Derrick's mother Marina hatched a plan to surprise his niece Alanah one afternoon and organized for the Pokers to perform at her school in Rochfortbridge, near Mullingar. Now, after years of playing rowdy acoustic sessions in noisy pubs, the boys take a certain pride in their ability to project their voices un-amplified, but we can tell you now that the Pokers are no match for 250 5-12 year olds singing like they are trying to blow the building down. Playing a selection of Christmas carols and classic Irish singalongs, it was impossible for us not to be swept up in the joyous energy of the tykes bursting with pre-holiday excitment. We only hope we didn't embarrass Alanah too much!
Set Dancing at Caitins - There's some things you just wouldn't see at a regular gig in Australia. Between brackets at our gig in Caitins, Kerry, a cheerful group of teenagers performed a few set dances with great enthusiasm and humour. It was one of many moments where we realized that we were right in the heart of a thriving cultural tradition. The carefree attitude of the dancers made what might seem a showy spectacle come off as a perfectly natural and timely undertaking, and undoubtedly added another dimension to the merriment. Absolutely charming.
BPs Beanies! - Part of the fundraising for our recent film shoot and the tour itself was selling hand-spun and hand-knitted beanies crafted by Ben and Toby's mums, Patti and Helen. One of the many ways in which Caroline, Sharon Buckley and Kirstie (Toby's partner, visiting from England) helped us make the most of this tour was in the promotion and sales of these delightfully quirky warmers. There were just too many great photos of them on various heads turning up to not give 'em a mention.

Week 3 - Hanging in there

Christmas Day was upon us, and The Pokers were to be hosted with the greatest festive spirit and generosity by the Buckley family in Mullingar. Before this happened, however, there was the matter of a local ritual to attend to - a winter's morning plunge into Lough Owel. While 10ºC is actually quite mild in an Irish December, it certainly isn't ideal swimming weather. Nevertheless, the jetty and diving platform beckoned and Derrick and Caroline made the plunge, followed closely by Ben, who performed an aerial water-entry-maneuver known in Australia as the 'bombie' (duly adorned in the appropriate attire for the stunt - a pair of cut-off jeans he'd fashioned that morning for the purpose. An Antipodean cultural ambassador indeed). Toby's health precluded him from participating in the the frosty feat, but he happily provided the sportspeople with technical support, locker duties, and a warming beverage upon their egress from the lake.

Click/tap photos to see more; click icon at bottom right corner for captions

After a wonderful dose of Christmas festivities, it was back to work on St. Stephen's Day (Boxing Day) in Sean Doyne's Pub, Glenidan, Co. Westmeath. Seconds after pulling into the carpark, we were greeted by a rousing cheer of 'The Broken Pokerrrss!' as a spirited group of young revelers poured out of the next car. After a moment of stunned confusion on our part, we realised that the lively crew did indeed know us, having been at Fiddler's Green two weeks before and deeming the Pokers' show as worthy of a good night out. A fine omen for the evening, we exchanged handshakes and laughter and then knuckled down to make sure we would repay their support with the finest tunes we could muster.
Doyne's, like Fiddler's and many of the other country pubs we played in, was cosy and full of community cheer, which most surely eminates from the Doyne family themselves. Sean, Mary and Sean Óg kept the bustling crowd happy from behind the bar while we played away, joined for the last set or two by a local tin whistle player, Paul, just in case the merriment wasn't enough already. A happy return to the charms of Westmeath, though as content as we were, the itinerary had itchy feet.

In Part 1 of this travel log, mention was made of the calmly seducing quality exuded by the Blue Line of Least Travel Time, common to many mobile phone GPS apps. On our earlier trip to Kerry we learnt that the Blue Line's promise of a peaceful, simple journey IS A TRAP AND SHOULD NEVER BE TRUSTED, at least not before zooming to a very high resolution, and perhaps consulting a cartographer's map (sure, roads curve left and right, but sometimes also up and down, and in particular areas, sideways). What we didn't learn from our trip to Kerry was our lesson, and accordingly used the same lazy logic to navigate towards our next destination, The Foot Inn, Burnfoot, Donegal.

From Mullingar, there is a perfectly sensible route along motorways and the like to Burnfoot, but the Blue Line was up to it's old tricks and was having none of that. The recommended route as wild and remote as anything we'd encountered, involving more extended stretches of confusing and frightening surprises, and fewer signposts. Additionally, we were crossing back and forth into Northern Ireland where our temporary telephone SIM cards would not work, wreaking havoc on our already chaotic navigational method, damn you Blue Line! All this said, in the end we must give begrudging thanks to old Bluey, if only for directing us through some magnificent scenery which we'd never have seen travelling on the motorways (On our crazy route there were, in addition to many natural beauties, not one, but two prehistoric stone circles. Say what we may about our mischievous navigator, but that's some pretty special sightseeing for one afternoon's commute).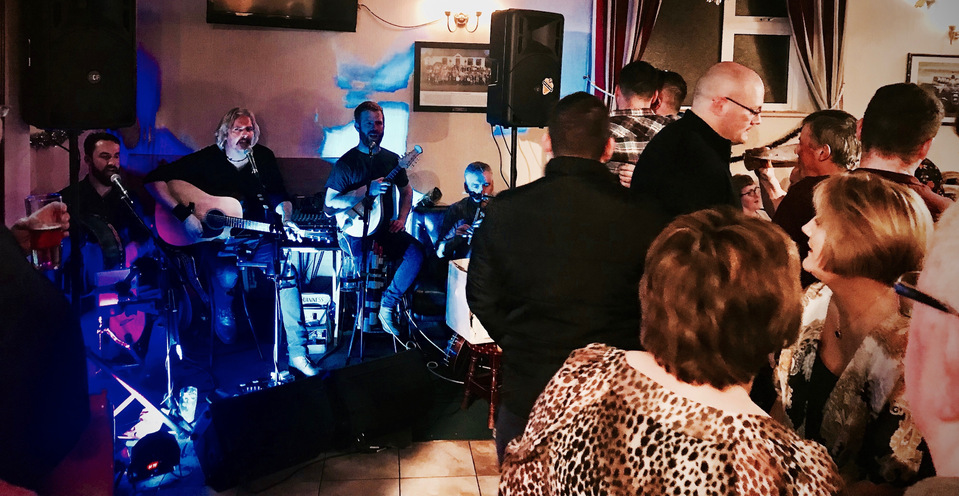 Irish hospitality was in abundance upon our arrival at the Foot Inn. The slightly frazzled troubadours were met with an enormous tray of fresh-cut sandwiches, a big pot of tea and pints of Guinness courtesy of owner Madeleine, before being escorted to our lodgings for the night at the Devlin family residence (more on this later). A quick spruce up, and keenly off to the gig we were, dashing down the hill a with a little more eagerness than usual - a long awaited reunion in was store.

One of the pleasures of this tour was the seeing the familiar faces of our Perth friends and followers present and past, and tonight we were in for a special treat. Two friends of ours from days gone by in the Perth trad scene, Aveen Cooley of Derry and Eugene Hackett of Tyrone, made the journey with their families to Burnfoot. As well as being wonderful and charming company, these two are also stellar musicians, the kind that put a big grin on your face. For a short time the Broken Pokers grew to a five piece group, Eugene sharing banjo and mandolin duties with Ben*, and Aveen on the tin whistle - a boon for the Pokers and audience alike. Mention must also be made of the guest appearance by Keelan Arbuckle, Rose's nephew and one of Ireland's finest country singers. Too good Keelan. The talent on hand made for one mighty session indeed, but the fun wasn't over when the music finished, no sirs, not in Burnfoot.
*A long running feud over plectrum ownership between the gingers was settled - a win for geopolitical diplomacy, banjo-wise. See photo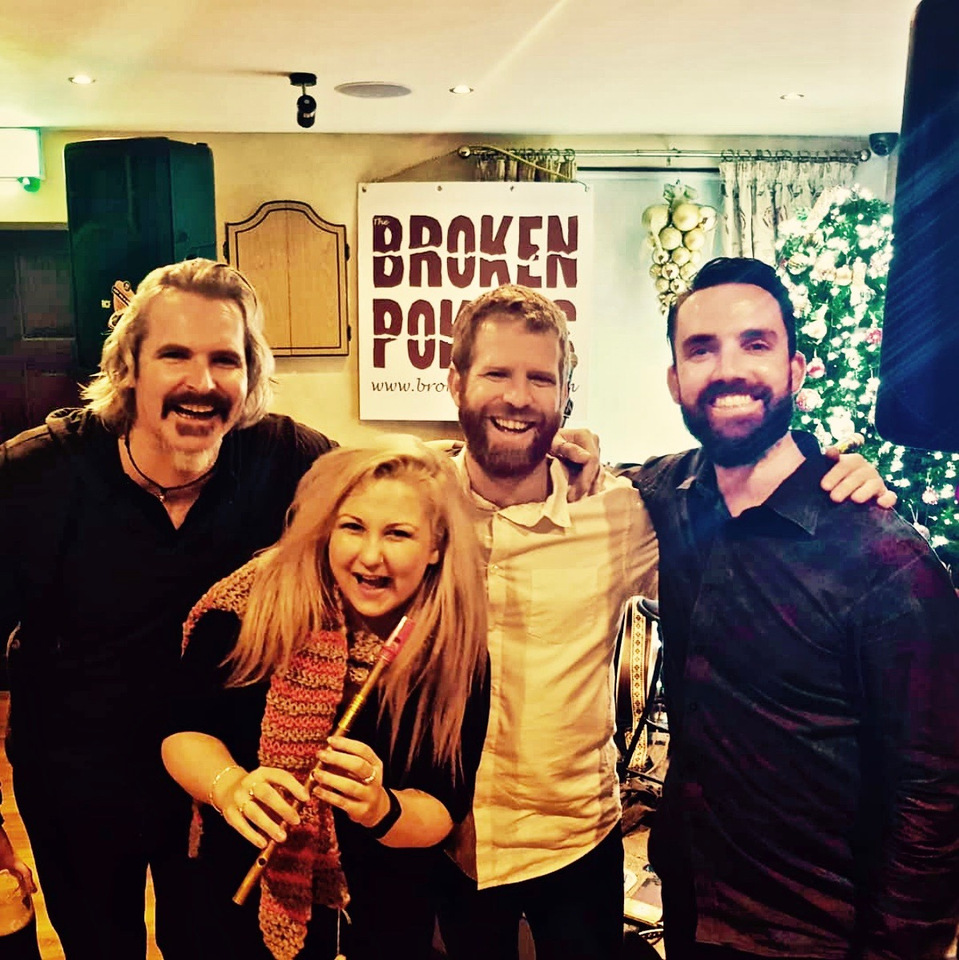 Led by our hosts Rose and George, a convoy of taxis ferried what seemed like half the pub back to their house for a late night shindig, and while the bards themselves were all completely exhausted and inevitably packed it in, the Devlins and co. fired on till sunrise. We woke with a lingering feeling that we'd perhaps let our hosts down in party terms, but any guilt was quickly put to rest by the cheerfully indefatigable Rose, running on only a few hours sleep yet still up and cooking a hearty breakfast to fuel us for our next jaunt. We took a moment to absorb the spectacular rural views and hit the motorway - yes, motorway Bluey, you devious scamp - back to the Midlands.

Staying in Mullingar had brought back many memories for Derrick, particularly of the early days of his music career and the musicians and venues that shaped his formative years as a budding rock star. He regaled us with tales of a legendarily wild gig played at a famed local live music institution with a knock-together band named Rubber Dukky, and upon securing a gig for the Pokers at the venue's latest incarnation, Derrick assured us that this would be our most spectacular and memorable show. In his words, "That's gonna be the one…that's gonna be the one." Loading in to The Stables @ Smiddy's Bar straight off the road from Donegal, the anticipation began to rise, which was handy, as tour fatigue had the troubadours seriously depleted. Any spark of excitement was much welcomed.
True to Derrick's reckoning, the evening shaped up to be a unique gig in a unique tour. Unlike the cosy pubs to which we'd become accustomed during our time in Ireland, The Stables was well appointed for a show-like performance, with a stage and lights and, thanks to old mate Frank Byrne, we were able to augment our trusty compact PA to provide a more impressive sound. Once Derrick's brother Alan (also Rubber Dukky alumni) had decoded the stage lighting to provide that extra fancy touch, we dashed home, scrubbed up, and returned to yet another happy surprise. Not to be outdone by Burnfoot, Mullingar dished up another serving of home-from-home friends, with Geraldton, Western Australia residents Derrick, Lynnette and family catching the train up from Dublin to meet us at Smiddys, as well as ex-Perthian Siobhan popping up out of the blue, smiles and cheer all round.

It being our second to last gig of the tour, we decided to reflect on our time on the road with a song or two from each county/town/city we'd visited, and took the night on from there. The venue filled up nicely, and we finally felt we'd proven ourselves, especially after noticing a few more local faces from earlier Westmeath gigs. With this in mind we set out to enjoy the show from our own perspective, play some of our personal favourites to the lovely, receptive crowd, and generally have a marvelous time of it all.
ONE MORE TUNE, ONE MORE TUNE (one more gig)

To paraphrase Britney Spears, "Hit me Boggans, One More Time". In what turned out to be a perfect and way to wrap up our Irish odyssey, we played the only show where we knew the location of the front door prior to loading in. Small mercies were welcome at this stage.

Soon enough, Boggans Pub filled up in a fashion poignantly representative of gigs from the entire trip. There were punters young and old, new and returning, convinced and sceptical; there were families, sports teams, musicians, loners and revelers; there were familiar faces from Australia and new friends from Ireland. There were stories and laughs, misunderstandings and connections. A big crazy bi-cultural soup. We hope you all had as much fun as we did. We'll be back.
This trip was made possible and enjoyable by many people, so we'll do a brief but sincere thanks to our friends and followers in Perth and Ireland for their suggestions and contacts, and for supporting our fundraiser concert; Ollie Carroll for being our trans-continental liaison and turning the suggestions into bookings; The Buckley family in Mullingar - we can't begin to explain how helpful, generous and welcoming you all were; Caroline for your patience and moral compass hahaha, you were a great travel companion and calming influence on the rascals; our generous hosts while we were far from the 'Gar, the Golden and Devlin families, and of course all of the people that came to see us in Ireland, because "that's what it's all about….Aaaalll do the Hokey Pokey!".